Penny offers a comprehensive and intelligent cloud-based procurement solution helping businesses streamline their procurement processes, expending resources more wisely by promoting user adoption, supplier engagement, expenditure management, and more.
In an era where the average procurement department only handles 63% of expenditure management, in today's tech-driven world, businesses require cloud procurement processes to fully control their spending, establish communication with suppliers, and optimize their ordering procedures.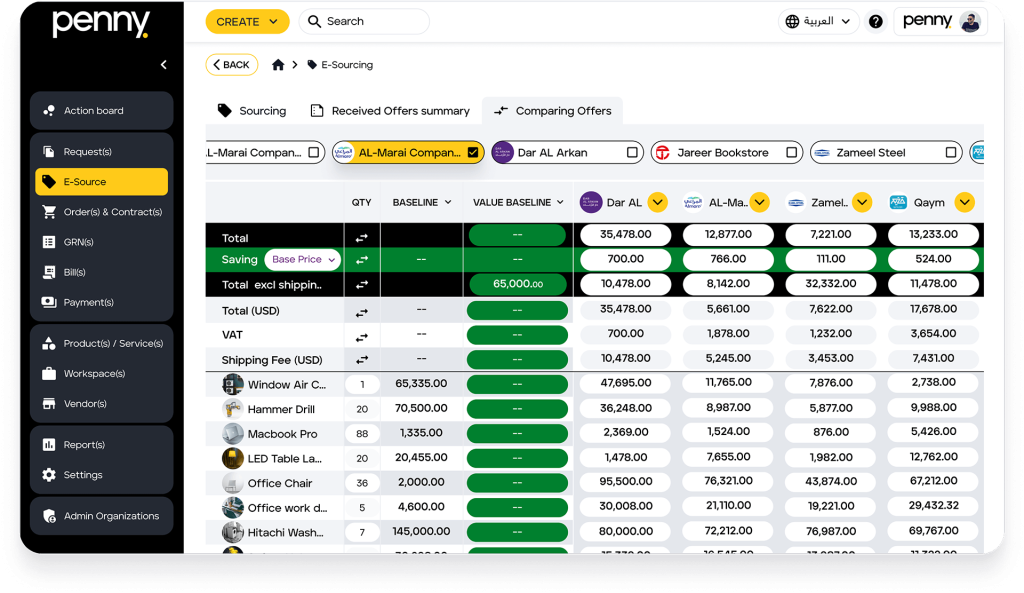 Instead of relying on manual, error-prone practices, cloud procurement software can help a company:
The first step is where you issue a purchase order. This would generally be done by email or via the vendor's website.
After receiving the PO, the vendor provides the approval, rejection, or reopens the negotiation process.
Once the buyer receives the vendor's confirmation, they'll create and send out the finalized purchase order to the vendor.
Now, the vendor dispatches the goods (or service) from their end to the buyer for verification.
The buyer verifies whether the quality and specifications are in line with previous discussions. If the buyer is satisfied with the order, the invoice will be processed, and the payment will be made.
Why Penny for eProcurement Software
With such a vast range of cloud-based procurement solutions on the market, it's crucial to find one that's both affordable and flexible enough to meet specific requirements.
Powerful, user-friendly e-sourcing, cloud-based procurement, and procure-to-pay Saas solutions for companies intent on automating their procurement procedures, improving expenditure management, reducing processing costs, and promoting supplier collaboration.
Penny's solutions are so simple and intuitive that businesses deploy them not just out of necessity but because they happen to offer the shortest route toward achieving their objectives.
Manage your spend, manage your business
Procurement departments with obsolete solutions cannot clearly oversee their procurement process or limit rogue spending. Penny's e-sourcing and procure-to-pay software can help you handle everything from getting order approvals, customizing budgets, designing procurement processes and making well-informed decisions in one single comprehensive solution.
Make purchase approvals from one centralized location.
Real-time customizable budgets
Make purchase approvals from one centralized location.
Create painless procurement processes and regain your time
Make smarter purchasing and business decisions.