What is the solution to the challenges faced by manual sourcing?
Global sourcing professionals face escalating demands and challenges, and this was true even before the pandemic. The source-to-contract process and supplier onboarding have historically been slowed down by siloed systems.
Major challenges faced by sourcing professionals:
◦ Supplier consolidation: Sourcing professionals are always stressed to consolidate the vendors they work with to reduce complexity and gain greater buying power. The human brain doesn't have the bandwidth to remember and retain all the information from every vendor. This fact gives way to human error.
◦ Complex and manual process: Existing sourcing processes are manual and time-consuming. Each quotation needs to be mailed to every vendor individually is extremely strenuous. Waiting for signatures & approvals seems to take forever.
◦ Optimizing budget: The sourcing process involves rummaging through paperwork to find maximum discounted deals which is a long and tedious process. Cross-checking all the products with various vendors, marking the lowest, and ensuring the quotation is dated is almost impossible.
◦ Quality and compliance: The detailed due diligence put into making sure the supplier delivers quality with consistency is quite difficult to achieve.
◦ Data located in multiple systems: Different data stored across various systems by all the sourcing professionals makes it immensely difficult to always ensure sourcing manager to contract process.
The Solution: Penny's E-sourcing Platform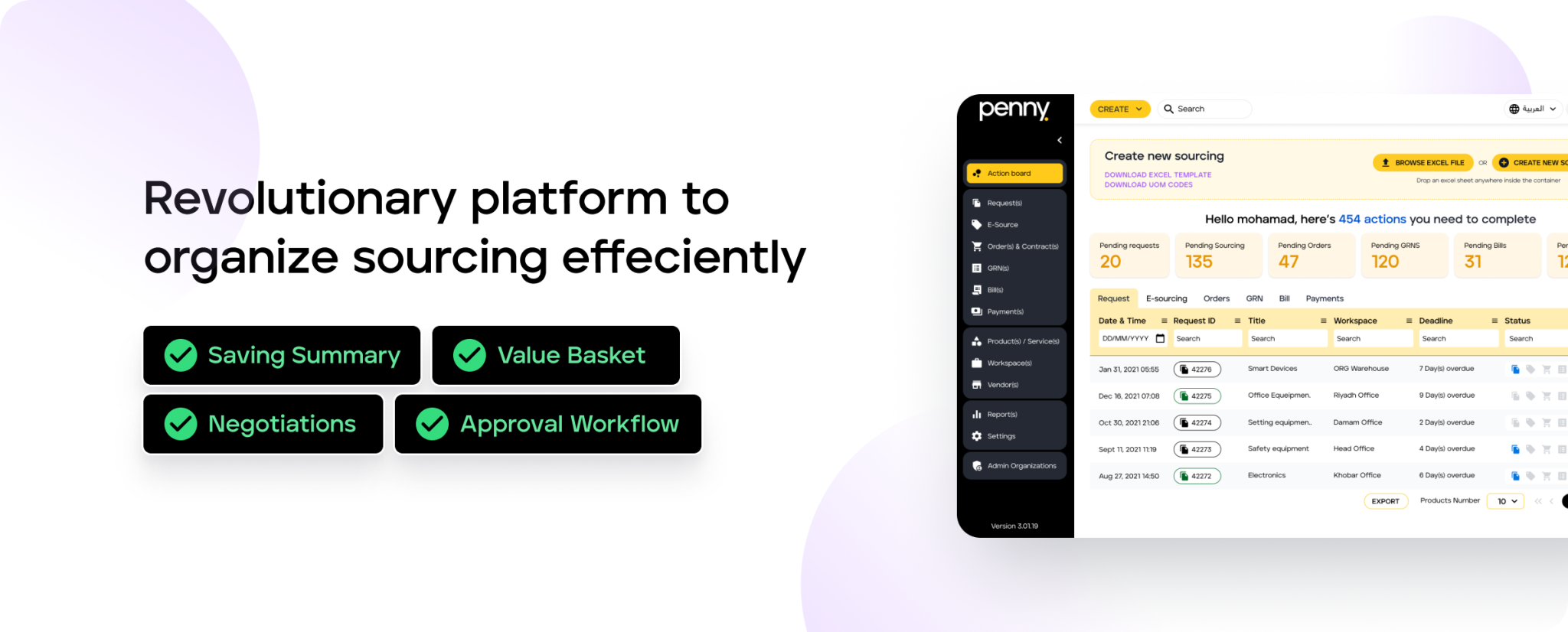 We at Penny have built a platform for your organization to perform your sourcing tasks with ease and efficiency.
Features of Penny E-Sourcing like Approval workflow make the sourcer's work cut out for them. They can send the Request for approval which can be tracked at every step of the approval pipeline, making the process 7xs faster.
Negotiations between vendors and suppliers have never been this easy! The user will receive quotations with remarks from the vendor. Upon viewing the remarks can take action by manually editing the quote & marking the product price.
Penny's Value basket highlights the cheapest quotations of each vendor and earmarks the vendor with the lowest aggregate quote.
The unique feature of Saving Summary saves time & effort by displaying the aggregate savings made by every vendor.
These are only a few features of the module that help revolutionize Sourcing.
With Penny E-Sourcing you can now save time, money & energy. All you have to do is request a quote and the rest is consolidated, prioritized, converted & saved for you.